Although the routes into the education profession can sometimes be long and winding, intentional programs that provide a clear pathway through college and into a career greatly help passionate future teachers find their way. Mariah Garzee, a first-year 6th grade teacher at Central Intermediate School in Monmouth, Illinois, was able to follow these sorts of pathways. Through the support of programming for new rural teachers at Monmouth College, one of Rural Schools Collaborative's regional leads in the Illinois Hub, Mariah was able to channel her energy and ambition for becoming a teacher into a budding new career.

The first time Mariah seriously considered teaching as a profession was in her senior year of high school. She enjoyed her work as a babysitter, had a love of reading and school, and had a close friend whose mother was a teacher, so teaching was always on the table, but it wasn't until her first year at Monmouth College, when she had the opportunity to volunteer in a classroom, that she decided to set her career compass firmly on teaching, "My freshman year in college, I was a volunteer in classrooms and I instantly knew that [teaching was] what I wanted to do. Just working with the kids and seeing them get it, seeing them show understanding or that they've learned something is the greatest feeling to me."
"I learned about the Golden Apple program through internet research, but I had no idea what it was until my Mom shared it with me. I really think it's something more people should talk about, and hopefully I can go back to my own high school and share what I've learned about the process."
Mariah is an Illinois Golden Apple Recipient. The Golden Apple Scholars program works to recruit high school seniors through college sophomores to serve as effective teachers in schools-of-need, which includes many rural schools. Currently, the Illinois program provides its participants with up to $23,000 in financial assistance for college, extensive classroom teaching experience, academic and social-emotional support, job placement assistance, and mentoring opportunities from award-winning teaching faculty. In exchange, Scholars must attend and earn a Bachelor's degree from one of the program's Illinois Partner Universities and must commit to teaching for five years in an Illinois school-of-need. Monmouth College is one of 48 participating partner universities in the Golden Apple Scholars program.

Mariah toured several colleges and universities, but making the decision to attend Monmouth College was an easy choice for her. She enjoyed attending the school's admission events where she had an opportunity to talk to Dr. Tammy La Prad and Dr. Brad Rowe, professors in the Educational Studies department, noting that, "They immediately gave me information, telling me all the opportunities available to me, showing me the classes I would be able to take…everything at Monmouth felt tailored to me, and I thought 'I could do this, I could be this, I could get interested in this.'"
"If you want to be at a place for college where you are cared about, you should consider Monmouth College because there are people here that care about you and care about helping you achieve your goals."
This sense of familiarity and connectedness has been an intentional part of the department's growth plan for some time. Recognizing the need to root their offerings and programming in the local community, the Educational Studies team has made great strides in preparing students to recognize the power of rural places, and how a place-based focus can generate innovative classroom curriculum and strong relationships. Even after graduating, Mariah values and admires the college's sense of community, "that's what's unique about Monmouth College, you're a part of a really big community, and it's so nice that everybody is there to help, you're not just another [name] on a class list."
"Place-based learning can keep people where they are. If kids know their place and they are connected to it through their learning they are more likely to stay and help build up their community and if not, they at least have an understanding of their place and can carry those skills into another community."
Mariah joined the TARTANS program during her sophomore year at Monmouth College. TARTANS (Teachers Allied with Rural Towns and Neighborhood Schools) is a rural teacher corps initiative coordinated by Monmouth College's Educational Studies department with the goal of preparing future rural teachers to establish themselves as "visionaries" in their communities. During her first year in the TARTANS program, Mariah worked to develop her vision as a rural teacher and learned more about place-based education through an online class with the Teton Science Schools. Mariah shares that her experiences with the TARTANS program really helped her connect more to her place and formulate a vision for what she wanted for her students: "Taking what I learned with the TARTANS program about place-based education and what it means to be a teacher in a rural area, I focus on how we can build up and save our rural communities by building up children and allowing them to be problem-solvers and real citizens in our communities."
"I think it's so cool when kids have a connection to where they are at when they are learning, and I think it really helps them solidify a lot of skills if they can see it right in front of them; when they can see a problem and how it affects them at a local level."
For Mariah, the greatest benefit of the TARTANS program was the amount of support she received while pursuing her education degree. The TARTANS are a community inside of a community, and in addition to the smaller cohorts, participants also benefit from an advisory board: "having a group of teachers who have a tremendous amount of experience to offer that you can draw on is really nice…and having a group of like-minded people that you can build and brainstorm with is very helpful." The incredible support was particularly evident during COVID, which made being in the classroom difficult: "Tammy and Sherry Bair really made sure to get us opportunities wherever they could, so I was always volunteering at the Educational Farm if we had YMCA kids there, there was a gardening camp that I volunteered for, I got online with a class for a whole year to basically just read with the kids–we'd go into break-out rooms and they'd just read to me, and I was so thankful for that experience."
"ELL (English Language Learner) nights at the Educational Farm were one of my favorite experiences. We look at plants and share what the names of the plants are in students' native languages and talk about the other plants that they have at home in their gardens."
During her senior year at Monmouth College, Mariah held a student teaching assignment in Galesburg, but she found herself missing the Monmouth community and ultimately accepted a permanent 6th grade teaching position at Central upon graduation. She shares that the community's connectedness was at the center of her decision to stay: "There's always people in the community that need help that the college is willing to go to, but the community is also willing to help the college as well … it's a reciprocal relationship, where each is helping out the other."
From the beginning of her college career through to her first steps in the education profession, that same power of community and place has driven Mariah forward to become a teacher. Now in her first year of teaching Social Studies and Reading at Central, Mariah is looking forward to the years to come knowing that she, her lessons, and her students are firmly rooted in the place that defines them. Hoping to encourage aspiring teachers to join the field, Mariah underscores that part of building a resilient rural community is embracing growth and change, "Be open-minded and willing to change…schools have adapted and changed so much, you have to be willing to change with them."
Special thanks to Tammy La Prad our Monmouth College contact for connecting us with Mariah.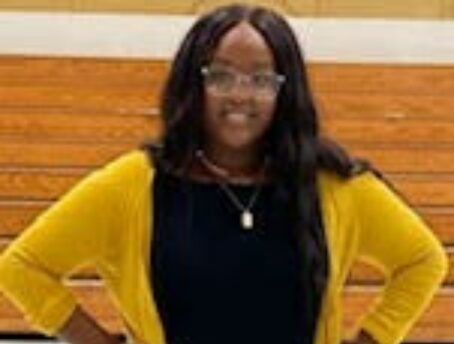 September 18, 2023
Inspiring teacher resilience through mentorship.
September 6, 2023
Congratulations to our five newest Rural Teacher Corps partners.
August 30, 2023
RSC and Compeer Financial announce Rural Schools ROOTed in Place Grant Recipients