Welcome to our first episode of the I Am a Rural Teacher Podcast! This week we're talking with Jolene Smith, a 5th grade teacher in Kayenta, Arizona on the Navajo Nation. You can listen to the podcast here, or read the story below.

You can also find our podcast on Apple Podcasts, Stitcher, and Spotify. New episodes will be released every Monday.
In the last census in 2010, Kayenta, Arizona had just over 5 thousand residents. It's the only municipal-style government in the Navajo Nation.

"I think of the toads, the sandstone rocks, they are reddish over here. And then the Black Mesa which is south of Kayenta," says Jolene Smith, a 5th grade teacher at Kayenta Unified District.
"I'm getting old but I like what I do," she laughs.
Jolene did not necessarily have lifelong dreams of being a teacher. When her father died, she left town to grieve, and held a series of random jobs, in offices and food service until one of her bosses suggested she try teaching.
When she was in grade school, Jolene says school was her safe place. Growing up her father was abusive, an alcoholic who took out his rage on their mother.
Getting to school alone was hard most days, but it was a refuge from her family life.

"And I said "I did that." I was hungry. I was cold and I still came to school, with my grubby clothes and my raggedy jacket, you know, I still came to school."

It's at school she found 3 solid meals each day, a quiet place to hang out in the library.

"[I remember] being hungry, being thirsty, you know, as a fifth grader and I'm going through all that."
Jolene reminds her students of this as often as possible, that with school and an education that you invest in - it can be a way out of a tough situation.
"I tell my students, you can do it, even though things happen in your life, leave those things at home and do your best at school."

Although she teaches others now, Jolene is still in school herself. Four times a year she flies from New Mexico to Connecticut to attend the Yale National Institute, an intensive and sustained collaboration among Yale faculty members and public school teachers.
She first attended the program in 2011, and has been going back ever since. Even bringing several students to attend the national convention.
"And they introduced themselves with their clans. They dress in their traditional outfit and it really made them feel good."
"You can do it, even though things happen in your life, leave those things at home and do your best at school."
Jolene liked the Yale program so much, she helped to create her own back home: the Diné Institute for Navajo Nation Educators.

The Diné Institute for Navajo Nation Educators is a teacher driven partnership between the Northern Arizona University and the schools in the Navajo Nation who are also participating in the Yale National Initiative.
The 8 month fellowship provides innovative K through 12 teacher professional development that elevates and strengthens culturally responsive teaching in schools across the Diné Nation.
This local program only started last year in 2019, but they're already seeing growth.

"And what's unique about this program that we established is, one: we're the only rural school that's doing this… and two, we're the only native tribe that has this Institute. And we're the first one to have it local as a native nation," says Jolene.
Jolene exemplifies this mission of culturally responsive teaching in her own lessons. Her curriculum isn't just about math, social studies or how to read. It's also about incorporating the Navajo culture into those lessons and integrating community into the classroom.
In one lesson, Jolene teaches through the lens of the hogan, a traditional, sacred dwelling for the Navajo people. She writes word problems for her class about building the structure.
"... About how much logs they had to get, how many buckets of dirt they had to get… all these components to make a hogan. That was the first set of word problems, and then the second set of word problems were all the events in and around the hogan. And I had to think about, let's say a protection ceremony for a veteran that comes back from overseas- it's a three or four day ceremonial event that happens."
So she writes questions like, if the men bring 80 logs a day for 4 days to get ready for the ceremony, how many will they have?
"Or they have to fill a 50 gallon container with a five gallon buckets of water, how many five gallon buckets of water will fit in the 50 gallon tank? So they would have addition problems, subtraction problems, division problems, and multiplication problems."
She'll also take some of the simpler math problems and translate them into the Navajo language for students to solve.
"You know, like, maybe, ten plus ten or five plus seven... And it's all written in Navajo. So I had the groups and they would talk to each other and try to read the problem. Cause I want that language to stay in it. And I tell them it's very phonetic."
"I think the teachers are very understandable with how students live at home. We really know our families."
The last part of this lesson is hands on, building an actual hogan.

"We talk about how to scale down, as hogan's are like eight feet by eight feet with eight logs going all the way around. And how would you scale down that huge hogan into a cardboard paper? How do you do that? And then I said, what materials can you use to build the hogan? And so some of them brought pretzel sticks. Some of them brought straws, some of them brought Popsicle sticks. And, so that's what they use to build their hogan."
As COVID upends school systems, there is much left unknown. For now, Jolene has one less thing to worry about - her and her husband already had COVID-19, early in the pandemic - and while they've since recovered, they spent over 70 days battling the illness before officially testing negative.
Jolene's 2020 school year started up again in August and it was almost completely online. About 5 percent of students were allowed to come back to the physical classroom because they don't have internet at their homes outside of town.
Internet access has been a huge issue during this pandemic. In a community like Kayenta, where some families live so far out of town they don't have internet let alone running water, finding reliable internet is even more of a barrier. They've asked the McDonalds in town and hotels in the area to let students and families hang out in their parking lots to use the wi-fi for school work.
Some have just been staying at school into the evenings for the internet.
"We're thinking about setting up more canopies, or picnic tables with canopies outside, even though it's hot, it's a hundred degrees here. They still come and they want to sit out there and work on their assignments. So we're looking at getting those canopy areas established."
Jolene mentions one student in particular who lived out on the Mesa, so far out of town her mom had to stand on a hill to get service to get in touch with Jolene.

"But she made an effort. She drove to another town, which is a hundred miles West of here called Paige. And she would travel there to shop and do everything there, her laundry..."

While her mother ran errands, this student would head to the library and cram as much school work as possible into the day.

"And then I would get at least, you know, two days of work. And I was like, 'Oh my gosh, it's two days of work in one day.' And she would email me, "This is all I can do for now. And we're going back home." And I knew where she was from, on the Mesa. So we really get to know the family, where they're from because of the Clan and what situation they are in. And we're very, I think the teachers are very understandable with how students live at home."
Kayenta is known for having great basketball and football teams. The community travels to Phoenix when they make state championships. The rent is reasonable, it's a great place for families. It's where Jolene has spent most of her life, and it's where she teaches 5th grade.
Thank you for reading. This story is part of the "I Am a Rural Teacher" national advocacy campaign. We'd like to thank our partners at the National Rural Education Association, Community Foundation of the Ozarks, Ozarks Teacher Corps, and The University of West Alabama's Black Belt Teacher Corps. The "I Am a Rural Teacher" campaign is made possible by a grant from The Bill & Melinda Gates Foundation.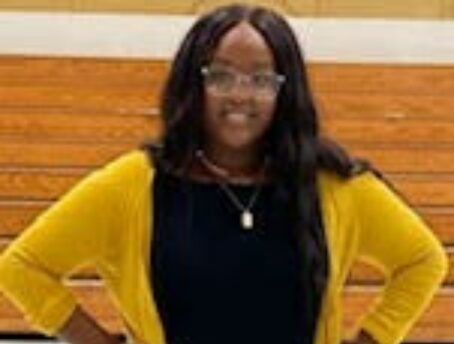 September 18, 2023
Inspiring teacher resilience through mentorship.
August 23, 2023
The Arkansas Teacher Corps and The Rural Community Alliance will serve as the leads for the hub.
August 23, 2023
Overcoming adversity through the power of education